HOW CAN I LEARN MORE?

Sands: Supporting Others
Sands (based in the UK) provides comprehensive guides for grandparents, friends and family, children, and health professionals. They also offer
support materials for parents
, which we encourage you to share with parents who have experienced a loss, or to read through yourself if you wish to learn more about what your loved one is going through.
Find support materials for family & friends here.
---
---
UNDERSTANDING THE GRIEF PROCESS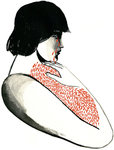 Understanding Grief
To be a solid support system, it is helpful to understand the nature of grief. We love this New York Times article discussing the complexity of grief. While we tend to try and rush loved ones through their grief in hopes that they will find joy again, it is actually harmful not to allow the grieving process to run its course. To show your love and support, make sure your friend or family member knows that their grief is valid, that there is no timeline for their mourning, and that you are there to grieve with them.
Read the full article here.
---
---
WHAT CAN I SAY OR DO TO OFFER SUPPORT? WHAT SHOULD I NOT SAY?
What To Say, What Not To Say

Family and friends often express their support in ways that are unintentionally hurtful, and these well-meaning words of encouragement can cause additional trauma for parents. In this no-nonsense article, a bereaved father named Eric explains what words are most helpful and supportive, and which comments can be particularly hurtful even with the best of intentions.

Read the full article here.

---

What Not To Say To Someone Ill Or Grieving

​Some great tips for what to avoid saying to grieving parents and why.

Read the full article here.

---

What To Do

Unfortunately, because family and friends rarely get to meet babies lost in late-term or full-term pregnancy or during the neonatal period, and because there aren't photos or memories to reference, the loss of a child is often treated very differently than the loss of another family member. However, for parents suffering a loss, they need just as much if not more support following the loss of a child. Here are some helpful ways in which you can

act

upon your offers of support.

Read the full article here.

---

---
---
GIFTS AND EMPATHY CARDS
Pregnancy Loss Cards

Dr. Jessica Zucker has come up with some great sentiments to let a family member, friend, or colleague know that you're thinking of them during a difficult time, so that you can convey support and sympathy without having to find the right words on your own. Read more about Dr. Zucker's cards on

Buzzfeed

and purchase them at

shop.drjessicazucker.com.

---

Personalized Books

After experiencing the loss of one of her twin sons, Kate Polley wrote her first book, entitled

Sam and Finn

, to share Sam's story with her surviving twin, Finn, as well as with her family and friends. The book resonated with other families who have lost children, and the book was published and distributed worldwide. Now, after getting requests to personalize books for other families who suffer loss, Kate has published this second, personalized, non-twin specific version that now available for order.

For more information, visit

personalisedchildlossbook.com

.

---
---
HOLIDAYS 101: HOW TO SUPPORT A BEREAVED PARENT DURING A DIFFICULT TIME
7 Ways To Remember the Hurting Mothers This Mother's Day

The Huffington Post shares seven tips for remembering and celebrating a mother who may be hurting during Mother's Day, a time that can be particularly difficult for moms who have suffered a loss or are trying to conceive.

Read the full article here.

---

Remembering Mothers Without Living Children on Mother's Day

Psychology Today offers great insight into how friends and family can remember and honor a mother who does not have living children on Mother's Day, a holiday when many parents are overlooked.


Read the full article here.

---
Five Ways to Support Bereaved Dads on Father's Day

BabyCenter offers advice on how to support bereaved dads during Father's Day, when men who do not have living children are often overlooked.

Read the full article here.

---

Holiday Survival Guides
Stay tuned for our 2016 Holiday Survival Guides for insight into how you can support bereaved parents through a difficult season. Coming soon!

---
New Year, New Grief

Read about the passage of time from one year into the next, and how it may effect the grieving process.

Read the full article here.

---
---
PREGNANCY AFTER LOSS: HOW TO SUPPORT A SUBSEQUENT PREGNANCY
What to Say: Pregnancy After LossPregnancy After Loss Support

publishes helpful guides for friends and family regarding "what to say" to a mom who is pregnant again after a loss. While most people assume a subsequent pregnancy means that parents will "get over" a previous loss, Pregnancy After Loss Support offers insight into how challenging another pregnancy can be, and guides family and friends through suggested conversations to help avoid (unintentionally) hurtful assumptions.

Read the full article here.

---

Five Ways to Support a Family Expecting a Rainbow Baby

(subsequent pregnancy after loss)

Jennifer Canvasser shares insight into how best to support a family through pregnancy after loss and how important it is to honor the child who passed rather than minimize previous loss in light of a new pregnancy.

Read the full article here.

---