'Tis The Season! (for Depression, Anxiety, and PTSD...)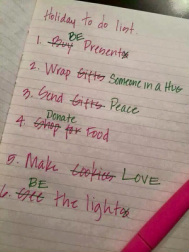 For parents who have lost a child, the holiday season can be a particularly painful and unforgiving time of year. For many of us, it means packing away stockings that won't be hung, folding up "Baby's First..." onesies that will go unworn, discarding templates for holiday cards that won't be sent, and bracing for impact.
If the constant barrage of holiday cheer isn't enough to push you to the brink of sanity, someone's well-meaning but totally gut-wrenching comments will surely make you want to shove those Santa cookies where the sun doesn't shine.
In hopes of bringing everyone a little peace this season, we've asked some of our favorite people - including grief counselors, psychiatrists, postpartum doulas and moms - to contribute their words of wisdom for our Holiday Survival Guide. Read it, follow our
Facebook
and
Instagram
feeds for supplemental information and inspiration, and share with family and friends so that they know how to best support you through the season.
Wishing you peace this season, and always,
Nicole and the team at Mommy Interrupted
---
---
Prioritize Self-Care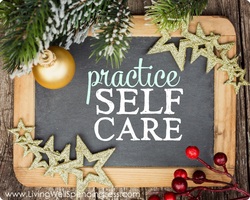 The season calls for giving, and while the sentiment is a good one, we're often pulled in so many directions when we're giving time and energy to our loved ones that we forget to give ourselves a break. Let this be the season when you prioritize self-care - resolve to put your mental, emotional, and physical well being first, and share your photos and tips with us on
Instagram
and
Facebook
using #SeasonOfSelfCare #MommyInterrupted.
If you can't carve out an hour a day to do something for yourself - like reading a book, exercising, meditating, or taking a bubble bath - then start with one simple act of self-care each day, like making hydration a priority and drinking eight glasses of water; taking a brisk walk to breathe fresh air; or starting the day with a 15 minute yoga warmup. Remember - it's not about adding to your to-do list, its about finding something that feeds your soul. And if you don't think you have time to take care of yourself, remember that we're only good to those around us when we're in good mental, emotional, and physical health, so you're doing everyone
else
a favor by prioritizing
you.
Here are some of our favorite self-care techniques to get you going:
Inspired Space. Do you have a space in your home that is all yours? If not, try carving out a spot where you can be alone, and be inspired. Make sure everything in that space speaks to you - whether its comforting fabrics, scented candles, or your favorite colors.
Morning Zen As soon as you wake up (don't you dare reach for that phone first!), ground yourself in the moment with a few deep belly breaths. Whether you choose to go to your inspired space, or stay in bed, make sure you breathe deep, clear out any thoughts that might have popped up overnight, calm your mind, and set your intention for the day.
One "No" A Day. Grief can be exhausting, even if you don't feel like you're expending much energy. If you're used to doing it all, whether it's hosting friends, bringing cookies to a book club, or running carpool, now is the time to scale back and learn to say "no." It's not forever, its just for right now - you can jump back into obligations when you're up to it - for the time being, take care of yourself first. You might even find you enjoy saying "no" more than you'd imagined!
Read to Restore. If you rarely find the time to sit down with a good book, scale back on obligations and devote an hour a day to reading in a quiet space when no one else is around. Reading allows you to rest, recharge, and regain a little bit of peace.
So Long, Social Media. One of the best things you can do for yourself during the holiday season is to avoid social media feeds. It's hard to focus on gratitude and stay present when you're not seeing a constant stream of sugar-coated family photos, pregnancy announcements, and newborn photo sessions. You can be happy for everyone later on, right now, just protect your heart and surround yourself with things that bring you comfort.
Friend Dates. If you have friends who have been particularly supportive and just seem to "get it" even if they haven't been through it, make time to take a walk, go to lunch, or just hang out. Being able to connect and openly share with someone who's there for you can make a huge difference and you'll gain strength from those visits.
Coffee Break. "I'm an early riser, so I've started setting aside time for myself in the morning before everyone else gets up. I set my coffee machine overnight so I wake up to that wonderful smell, and I sit at my kitchen table with a big mug and embrace the silence." – Elise, UK
Evening Ritual. "I love bubble baths but I never make the time to relax. This month I'm setting aside half an hour each night for a candle-lit bubble bath after a long day. I don't only enjoy it, I genuinely need it to get through the season in one piece." – Katlyn, NY
Nature Walk. "Working from home in the winter months can feel especially isolating, so I take a brisk walk outdoors each day to clear my head and reenergize. It makes such a difference to take a break and connect with nature and the world around me." – Alexis, Ontario
No Phone Zone. "I find that connecting with my husband is a critical form of self-care in the months since our loss. He's back at work, and we rarely get uninterrupted time together, so we've started turning off our phones for a few hours each night – we sit at the dinner table and have each other's undivided attention. No emails, no texts, no internet. Just us." – Molly, AZ

---
---
Just Say No.
Joann Paley Galst, Ph.D
is one of our favorite professionals specializing in reproductive mental health. Having been through late-term pregnancy loss herself, she doesn't only offer academic advice, she comes from a place of true understanding. Dr. Galst says, "No matter how you slice it, the holiday season can be tough. Expectations outweigh reality, old family dynamics can re-emerge, and the focus on kids can be extremely painful." Here are some of Dr. Galst's suggestions for exercising control during the holidays to maintain your mental health:
Opt Out. "It really is OK to choose to skip a holiday with family. If you are comfortable, let your family host know why you can't attend or only wish to attend for a limited time. Consider creating your own holiday ritual for this year with your partner. Plan to go somewhere nice together, something adults only like a country inn or B & B."
"After a horrible Thanksgiving, I gave myself permission to sit out Chanukah and Christmas and stay home with my husband. It wasn't a great time, but it was definitely the right choice for me."
– Sarah, NY
Timing is Everything. "Consider arriving late and leaving early to limit the time you spend with family or friends. Create an escape signal with your partner to indicate that you have had enough and feel it is time to leave. Discuss your feelings with your partner. The mere act of developing this signal together can help you feel closer to each other."
"Last year we attended my husband's office holiday party and between all of the painful small talk and a few too many pregnant women, I felt as though I'd been hit by a ton of bricks. We said hello and then we left. I recommend opting out of parties with people you aren't close to that first year – it's just not worth the trauma."
– Kelly, CT
Take a Break. "If you decide to attend, when uncomfortable child-centered moments arise, head for the kitchen to put together an appetizer or arrange a cookie platter. Volunteer to run out to purchase the last minute ingredient or to walk the dog. These can allow you to come and go throughout the day."
"My sister-in-law and I were pregnant at the same time, and her daughter was with us for Christmas just months after my son died. I wanted to be supportive, but it was excruciating not having Aiden in my arms. My partner and I took a break every hour to walk around the block and gather our courage."
– Bec, MD
---
---
Practice Gratitude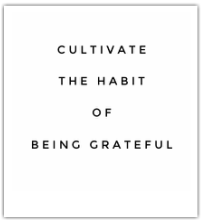 Let's be honest – some days, focusing on gratitude can be a real challenge. Especially this time of year, when your anguish is juxtaposed with joy, merriment, and an emphasis on children and family, it can be an uphill battle to find the good amidst heartache. But, as
Dr. Lizzie Sobel
says, "it becomes even more important to practice gratitude at the hardest moments, when life seems to deliver a never-ending stream of bad news." Here are some tips from Dr. Sobel to help you focus on the good, even at the hardest times:
Offset The Negative. "As Shawn Achor explains in his book, Before Happiness, for every one negative thought, our brains require three positive ones to off-set the negativity. Keeping our minds on things we are grateful for maintains a positive mental outlook, reduces stress, and improves our moods. Moreover, studies have shown that feeling grateful will stabilize blood sugar levels, reduce blood pressure, and balance reproductive hormones." No sweeping statements needed for this one - after a loss we often find beauty in the simplest things: the sunshine, a blue sky, delicate snowflakes, a big cup of tea, a pair of warm slippers in winter.
Keep A Gratitude Journal. "Write down little things you are grateful for each day, each week, or each month." If you loved writing in a pregnancy journal or blogging before your loss, here's a great substitute to keep your hands and mind busy. Don't think you have time? Rachel Grate of mic.com says, "Researchers found that just 15 to 20 minutes of writing three to five times over the course of the four-month study was enough to make a difference. By writing about traumatic, stressful, or emotional events, participants were significantly more likely to have fewer illnesses and be less affected by trauma." Read more about the mental health benefits of writing here.
Reflect. "At the end of each day, reflect on 3 things you are grateful for that day." Rather than running through a mental to-do list that promises to keep you awake, end your day on a positive note. When your head hits the pillow, take a few deep breaths, reflect, and think about what you're grateful for that day. Read more about the benefits of bedtime gratitude practice in Psychology Today and check out the Staying In Bed Meditation for more nighttime tips.
Give Back. "Give back to the community in some way – volunteer, donate gently used clothing" or find a charity that is meaningful to you and get involved, and let family and friends know that they can make a donation in your baby's name. Giving back shifts our thoughts and actions to those in need, and it allows us to "parent" by helping someone in our child's honor.
Get Social. Dr. Sobel suggests inviting a friend over for dinner – a simple way to show gratitude for a wonderful friend who has loved and supported you. During the holidays you may shy away from celebrations, but avoiding the season altogether can feel further isolating. Try inviting a friend over for an evening of celebrating in a way that makes you feel comfortable - bake cookies, do some light decorating, or just enjoy a holiday cocktail.
---
---
Communicate, Communicate, Communicate
Losing a child is the worst heartache in the world, but navigating loss is even harder when we expect others to anticipate our needs without communicating them. In a perfect world, everyone would know what to do and say; in reality, no one does. Expect people to read your mind, and you will most certainly be disappointed. Here are some tips from moms who have been there to help you avoid communication meltdowns:
Advanced Planning. Make sure you discuss holiday plans ahead of time and find a strategy that works for both you and your partner. Remember that you might have different outlooks on how to spend your time and that's ok - one of you might want to avoid family and friends altogether, while the other might feel compelled to surround themselves with loved ones. Talk it out in advance so you're on the same page and act as a team. If you do decide to spend time with others, plan breaks to get some fresh air and check in, and always have an exit strategy.
Manage Expectations. Make sure everyone knows that this will be a difficult holiday for you and manage expectations of what you will be doing. If you usually bring dessert for the holiday meal but can't handle it this year, let your host/hostess know so that they can make alternate plans. If you're attending a gathering and want to sneak out early, mention ahead of time that you may not be able to stay long to avoid an awkward exit. You can jump back into your usual traditions when you're ready. Do yourself a favor and take a break this year.
Ask For What You Need. This sounds so simple, but it gets complicated when we can barely keep track of how we're feeling in between emotional highs and lows following a loss. We feel others should know what we need and so we don't bother asking, but then we end up disappointed, frustrated, and feeling misunderstood. Do everyone (especially yourself) a favor this year and feel validated in expressing yourself and what you need when you feel it. If you feel vulnerable at a holiday party and want your partner to stay by your side as you greet people, let him/her know you need that support. If you're feeling overwhelmed watching children open gifts under the family tree, ask a family member to take a walk with you. If you anticipate misguided comments from family, let a friend know you'll text or call them when someone says something hurtful so they can support you and hopefully help you laugh it off.
---
Be Prepared
If there's one thing that can compound grief after losing a child, it's the comments, questions, and unsolicited advice from family, friends, and complete strangers following a loss. As parents, this is where much of our "work" comes in – managing other people's reactions to our loss is exhausting, and our responses might vary depending on our mood at any given moment. Do you go with response A, which is truthful but will probably bring tears to the person's eyes, at which point you find yourself apologizing and comforting
them
? Or do you go with response B, answering politely to protect their feelings, but leaving the conversation with an emptiness, knowing that you haven't honored your baby in a way that makes you feel comfortable?
Since you're likely to come into contact with extended groups of family, friends and acquaintances this time of year, all with varying degrees of knowledge about your loss, it's a good idea to prepare some answers so that you don't have the wind knocked out of you.
Deborah Issokson, Psy.D.
says, "I encourage people to find authentic responses that help them feel loyal to their babies, that are not more disclosing than they want to be and that communicate limits and boundaries."
The following are some questions/comments that our moms have fielded over time, and their suggested responses. You'll notice the replies are varied in their irreverence – you do you mama,
you do you
.
"You can always have another."
Response:
"Unfortunately, we will never get our daughter back, and she is not interchangeable. While we might find the courage to try again one day, we are still grieving our loss and trying to focus on honoring her as best we can." [For couples dealing with infertility, you may or may not want to share why it isn't as easy as "just having another."]
"You look great! I'm so glad to see you're over it!"
Response:
"We have our good days and our bad – please understand that we will never "get over" the loss of our daughter – but we are doing as best as can be expected, and I thank you for noticing."
"It wasn't meant to be."
Response:
"Interesting, what was meant to be?"
"You shouldn't have been [fill in the blank, i.e. exercising], what a shame."
Response:
"Actually, my [exercising] didn't have anything to do with our loss, and its hurtful that you would say that." [A lot of moms like to go farther and use these comments to educate people. Hit them with some data, i.e. "over 26,000 babies are stillborn each year in the U.S. – that is approximately 1 out of 160 pregnancies – ten times that of SIDS. In most cases no cause of death is found, and it certainly isn't brisk walks."]
"He's in God's hands now, where he belongs. I'm praying for you."
Response:
"We are not religious, and I believe that the best place for him is in my arms, but I thank you for thinking of us."
"
You're better off. It would have been too hard to raise her."
Note: Sweeping statements like these are our favorite. If we had big "WTF?!" stickers we would sprinkle them all over this one.
Response:
"I'm sorry, I'm not sure you understand our situation. It would have been nothing but pure joy to have the chance to raise her." [Insert reason if you're up to it, i.e. "our daughter was perfectly healthy, she died of cord compression during labor."]
And remember, if you're too tired to get into it, or if the question is too egregious to warrant a truthful response, you can always answer with a simple, "I'd prefer not to talk about it right now." You don't owe anyone an answer - your first priority is to protect yourself and to do what feels right for
you
.
---
---
Start New Traditions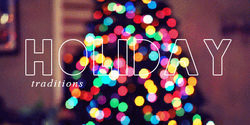 We honor the memory of our children in our daily lives, but as we approach the holidays it becomes difficult to reconcile the idea of starting new traditions in our child's honor with the family traditions we had expected to start with them. Here are some suggestions from parents who have integrated their children into new and old traditions alike:
Invite family and friends to light a candle in your baby's honor at a specific date and time, and encourage them to share photos of their tribute.
Give the gift of an ornament in remembrance of your baby to close family and friends who have been exceptionally supportive and loving.
Plant a tree (weather permitting) in your baby's honor and invite others to help you – planting something that will grow in nature is a beautiful way to start the New Year.
Host a balloon release in your baby's honor – invite family and friends to write messages on the balloon (note that we don't recommend frequent balloon releases – they can reek havoc on wildlife!)
Invite friends over to decorate your home for the holidays – open some wine, play some music, and bake cookies in honor of your children.
Begin a new tradition with your partner - just because your child isn't with you, doesn't mean you're not a family, and it shouldn't mean you forsake a new tradition that you planned to start as a family. Let the tradition remind you of your love for each other and for your baby year after year.
Go on a holiday walk – and ask others to join you to honor your baby's memory. Even if its just a brisk walk between cooking shifts, make it an annual tradition - it will give you a break to look forward to, and its a great way to get outdoors, include your family, and connect with your child's memory.
---
---
Connect With Other Parents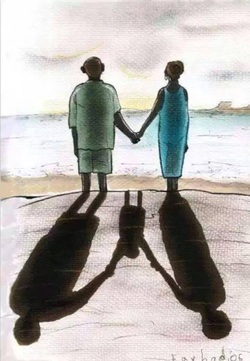 If there's one thing that can reinforce your sanity this time of year, it's connecting with another parent who has experienced a loss. Hearing that someone else has all of the same fears, emotions, reactions and frustrations is an utter
relief
. Beyond that, it's a beautiful thing to make a new mom or dad friend through your baby – they may not have brought you together in the way you expected, but they've brought you together nonetheless. If you know someone in your area who has been through a similar loss, plan a coffee date. If you don't, here are a few resources to help connect with other parents:
Make sure to connect with us on Facebook, Twitter and Instagram for more information and inspiration.
---